Discover more from The First School
The best tips for meaningful family engagement in education
No, I'm not referring to the missed calls on your mobile phone. I'm referring to something more serious. We'll find out soon! :)
---
If you have followed the last two editions of the newsletter, you will recollect that we delved on "The Why" (link) and "The What" (link) aspects of the newsletter. We concluded last week's post with the key insight: "Well-supported adults lead to well-supported children!".
From this week, we will look at "The How" - "How can adults be supported meaningfully to raise well-supported children?". 
In every post starting this week, I will share one tidbit with you. I assure you that they are all scientifically proven and meaningful! But it lays emphasis on you, the adult, to put them into action.
---
Back to these "missed calls"
Children often give us a lot of hints about their abilities, interests and needs. These hints could come in different ways: for example, a facial expression, a verbal statement or by explicitly pointing at objects, to name a few. (Have you had any missed calls in recent times?)
When an adult fails to respond to these hints, it can weaken the brain architecture and impair the development of skills and abilities, behaviour, and health of a child.
Child-adult relationships need to be responsive and attentive, with lots of back and forth interactions, to build a strong foundation in a child's brain for all future learning and development. These back and forth interactions are called "Serve & Return"! 
An example of what "serve & return" looks like:
Your child looks at a flower curiously. This is a serve.

You return the serve by looking at the same object, and by acknowledgement ("Wow").

When you respond verbally, you are giving it a name. You can name anything—a person, a thing, an action, a feeling, or a combination. ("That flower is so beautiful")

Then you...wait for your child to respond. Children need time to form their responses, especially when they're learning so many things at once. 

The final piece is to understand the endings and beginnings. Children can move quickly between activities. In this case, your child may no longer be interested in the flower and could look at another object with interest. Just because they looked at a flower with interest, it does not warrant a never-ending conversation about flowers. So it is important to move on.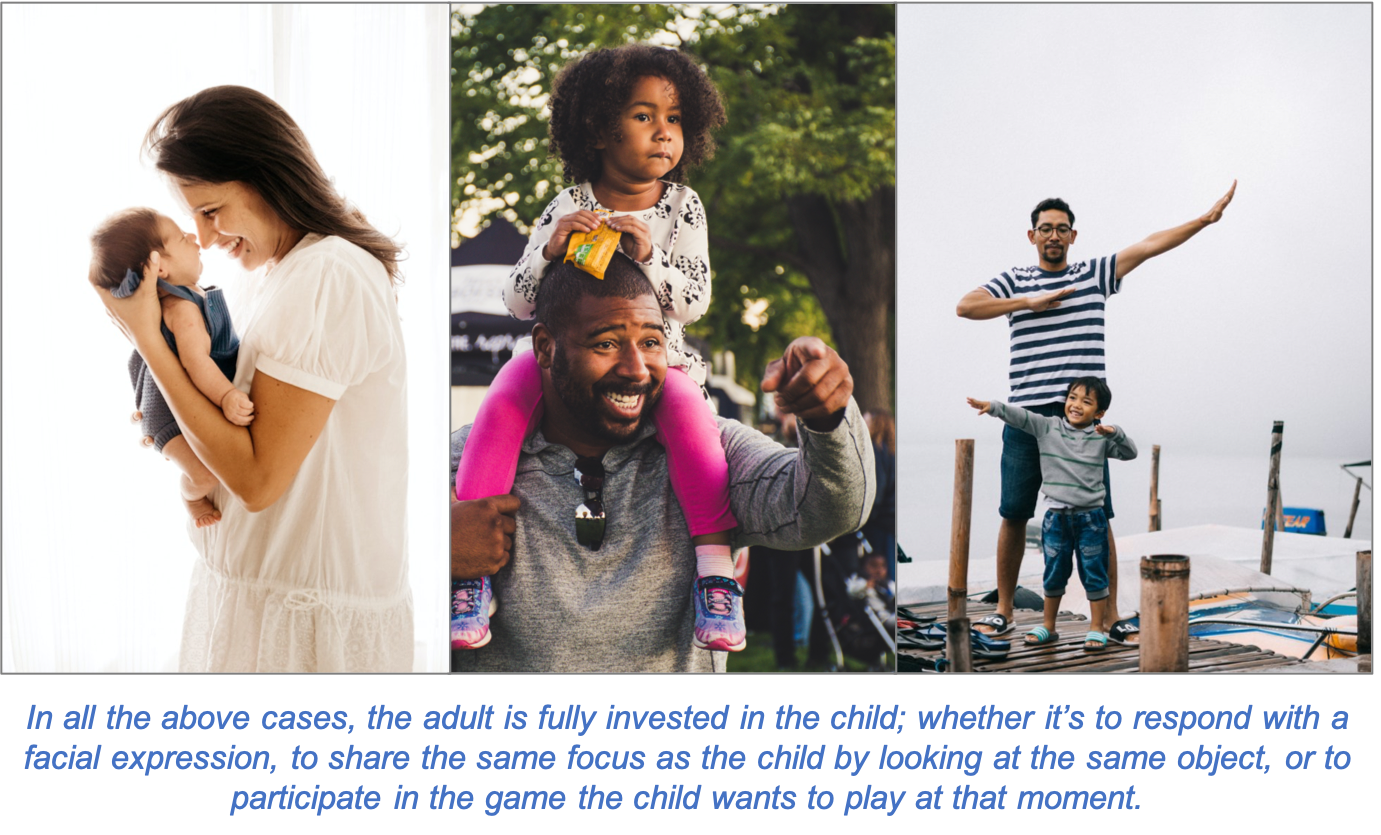 Advantages of serve and return
It helps you build healthy relationships with your children. 

It tells children that you care about them. 

When you describe something or respond mindfully, you make important language connections in their brain. This helps them understand the things around them.

Turn-taking helps children to learn self-control. You also help them to develop their own ideas about something. 

When you don't impose but allow children to take the lead, it gives them ownership!
Simple strategies to minimize the number of "missed calls" from your child
Monotask: It's impossible to keep track of the "serves" at all times. But set aside a specific part of the day when you do it completely. 

Set up daily rituals: With older children, you can develop routines such as having a meal or taking a walk together (which becomes a non-negotiable). 

No mobile phones: It is not sufficient only to set up these daily rituals, but giving it your undivided attention. Put away your mobile phones and all other distractions during these times.
It is not uncommon for us adults to miss these serves. These days, we not only prefer to multitask, but we also think we are good at it. Unfortunately, this is not an effective strategy with children. Remember, it takes two to play. 
We would love to hear your thoughts on the following:
Do you have your own experience in implementing "Serve & Return" in your setting?

What challenges do you foresee in implementing this in your learning environment?
References: Here is a very useful handout on Serve & Return from Center of the Developing Child, Harvard University, who played a significant role in conceiving the framework.